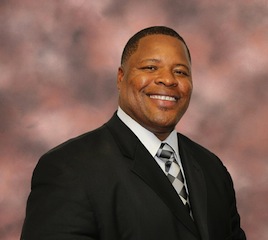 Pastor Fleming was born in Austin, Texas on April 1, 1964. He attended elementary and middle school in the Austin Public School System and graduated from Reagan High School. He grew up in Olivet Baptist Church. After the death of his mother, Margie Fleming, at the age of six, he was raise by his aunt, affectionately called Mother Dorothy Alexander who is currently a member of Olivet, and grandmother, Mabel Ealey, who was a member for 38 years until her death in 1992.
After high school, Pastor Fleming attended Cisco Junior College, in Cisco, Texas, where he received an Associate's Degree of Applied Arts in 1984. He later graduated from Huston-Tillotson College, Austin, Texas, in May 2000 where he received a Bachelor of Arts Degree in Business Administration. Pastor Fleming also attended the Austin Graduate School of Theology in 2002. He received a Master's Degree in the Theological Studies from the Austin Graduate School of Theology on May 17, 2015.
Pastor Fleming rededicated his life to Christ and reunited with Olivet on January 29, 1995. He accepted his call to the preaching ministry in August 1995 and served as Olivet's Youth Minister and Minister of Discipleship. He was selected to be the Pastor of the Mt. Olive Baptist Church in Odessa, Texas, and was ordained a pastor by the Olivet Church in 2002. He served as pastor at Mt. Olive until 2004 and was called to pastor the First Baptist Church in Lockhart, Texas.
After a fifteen-month vacancy of the Senior Pastor position at Olivet Baptist Church, the church through much prayer and deliberation were led by the Holy Spirit to extend the call to Pastor Fleming to fill this vacancy, and he graciously accepted on June 14, 2012.
Pastor Fleming is married to the former Diane Aldridge for 25 years. They have six children: Quentin, Edward, Jr., Ambrosia, Shanique, Christian and Victoria. Pastor Fleming and Diane have served as foster parents for several years. Their youngest two children are adopted.